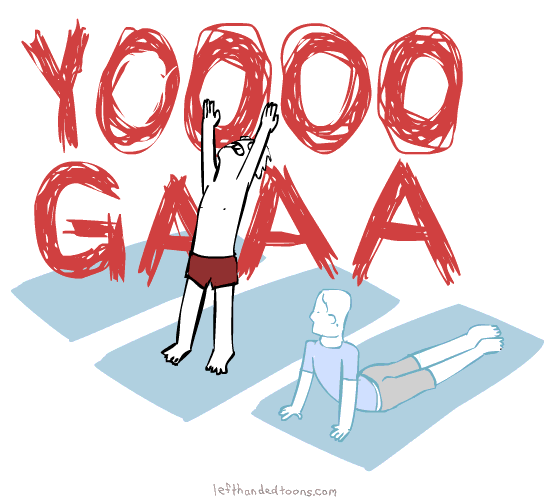 by Simone Krabbe
As you walk in the room you see the desks, chairs and the stale white walls. The bulldog posters hanging in every corner and the book filled shelves. It looks like an ordinary classroom, except every Wednesday morning at 7 a.m., this classroom is turned into a workout place. Two GHS students, Alex Morales and Celesta Van Wyk, decided to create a yoga club this year, and it has been a success so far. The only thing you need to bring is your own mat and a good morning attitude!
Yoga can be traced back to around 5000 years ago when the indus sarasvati civilization first starting exercising yoga, and now we continue to exercise yoga here at Grandville. However, the yoga we do today has changed a little bit since then. Unlike 5000 years ago where technology didn't exist, it does today and we use it for almost everything, including for yoga.
"We have a team stretch for like 5 to 10 minutes, where usually I lead it, where we all just count together," said co-founder Morales. "Then we watch the video of the yoga lesson." 
The use of video for yoga has apparently also made for some good laughs, as the yoga director in the video makes some funny but awkward comments when showing the poses. As Ariana Star a member of yoga club confirms:
"The person we watch makes really weird comments sometimes and we just kind of look at each other and laugh," club member Ariana Star said.
Currently the yoga club is doing a 30 day yoga challenge where they watch the YouTuber Yoga With Adriene" and her thirty minute long videos.
Instead of doing a video a day they watch one once a week over the course of 30 weeks. They are currently on episode 10 meaning they have been doing the challenge for the past 10 weeks and they only have 20 more to go.
A lot of people find it embarrassing or nerve racking having to try to do yoga for the first time in front of classmates and friends, but co-founder Van Wyk reassures fellow students that it is a open and welcoming space.
"It's a good environment and a good way to start your mornings," Van Wyk said. "It's really relaxing."
Not only is yoga a good way to start your morning it also has multiple health benefits. In yoga one of the main things that is focused on is breathing and meditation. Yoga focuses on the body getting to a state of relaxation.
" I makes mornings a lot easier because you're finally wide awake and you feel more relaxed and it helps decrease the stress that you have," Morales said. "So for me I like it because it relaxes my body and my mind."
Hopefully after having read this article you are interested in learning more about yoga and experiencing the relaxing sensation that yoga is. If this is the case you should try stopping by room 117 every Wednesday morning at 7 a.m. where I am positive you will be welcomed with open arms.